15 November 2008
Today was a great Swap day, as I got two packages full of wonderful stuff. The first one was from the Amazing Lace Swap from Ravelry. I got a great package from Singapore, with all this nice stuff you seen on the picture. The wool has all the colours I like on it.




And the second one was also from Ravelry, from the Coffee and Chocolate swap. Both things that I love that much. Here is the photo with the great stuff. The wool looks great and the chocolate sounds yummy. Also all the other stuff is great. The mug looks so nice and the angel is sooo cute.


Postet from Nicole at 14:32 0 Kommentare

13 November 2008
This are my latest socks, they are for me. The wool is from Drachenwolle and the pattern is the
Diamente
pattern from Knitty.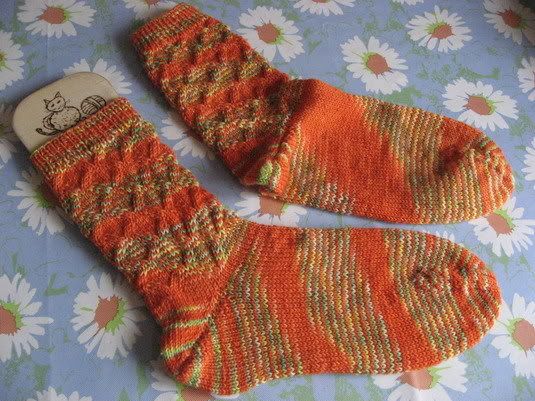 Postet from Nicole at 22:28 0 Kommentare

I got my pal some hours ago and write to her soon. I had a look at her blog and it seems that we will have much fun at this round. I love this kind of swap. My Secret Pal 12 partner was Karin from Germany and I hope that I was a good partner for her. It was fun to send her the packages.
Postet from Nicole at 22:25 0 Kommentare